Paper receipts were a pain to keep organised. It is impossible to recover the data from a lost receipt. Moreover, there are times when people lack the skills and time necessary to handle their receipts properly. And at a time of crisis, that may create a lot of complications. Free online receipt generators could be used to avoid these kind of situations.
Almost anyone may use these no-cost resources to print out a receipt when one is required. You may create your own receipts and make whatever changes you'd like, whether it's a tax receipt, an ATM receipt, a grocery store invoice, or a hotel receipt, plus you don't even need any special skills to do it.
11 Best Free Online Receipt Maker Tools
In light of the abundance of online receipt generators, it might be difficult to determine which one is most suited to a given industry. Here, then, are top-notch web-based receipt apps that can facilitate your work and save you time.
1. Invoicely
Invoicely is an easy-to-use and free web tool for making professional-looking invoices. There is no limit to the amount of invoices you can make by using this tool. The correct fields need to have your data entered into them only.
The real-time computations it provides will also help you finish projects much more quickly. You have unlimited space for content, and you may save your document as a PDF.
Visit Website: Invoicely
2. Online Receipt Maker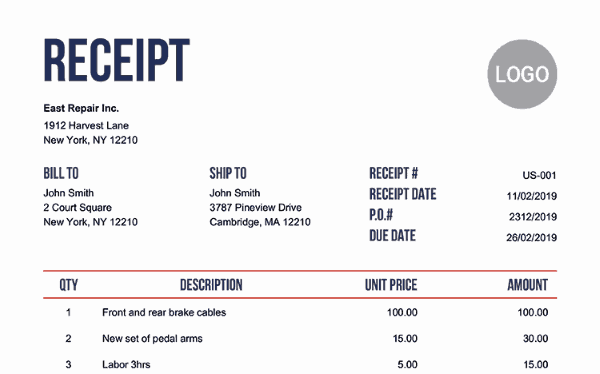 If you are new to using online invoice solutions, the online receipt generator is a great place to start. In a short amount of time, you may make authentic-looking fake receipts that are unique to your needs.
Furthermore, it provides comprehensive instructions for creating phoney receipts. Additionally, there are no limitations on the number of items you can add to your list with this app, so you may store as much information as you need in your receipts.
Visit Website: Online Receipt Maker 
3. InvoiceApe
The invoices created by InvoiceApe are among the best in the business. This software is available at no cost and features numerous sophisticated options. It's simple to use and comes with several sample documents for your usage. And it lets you change the look of your receipts to match your brand's colours, themes, etc.
Visit Website: Invoice Ape
4. Fast Due
Fast Due is an online invoicing tool that helps small businesses create and send out invoices without breaking the bank. It also includes a collection of sample business documents such as contracts, agreements, and other legal docs.
Simple to use and the best platform for producing multiple invoices, Fast Due is a must-have. It's a great asset for any company because it helps with workflow management.
Visit Website: Fast Due
5. Free Invoice Generator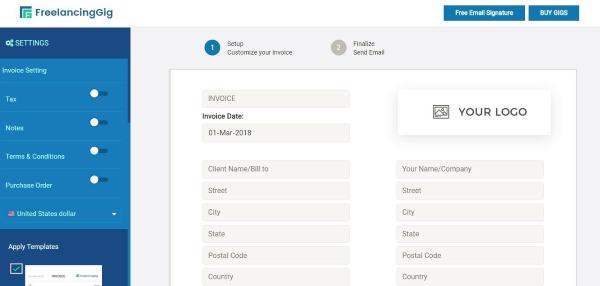 Free Invoice Generator features a number of different invoice samples for quick and easy use. Invoices and receipts can be generated in a flash; all you need to do is enter some data.
By filling up the relevant fields in the "Recipients" section, you may also send invoices straight to the people who need to give payment. If you need a receipt and you don't want to pay for the service, a free Invoice generator could be what you're looking for.
Visit Website: Free Invoice Generator
6. ExpressExpense
One more great option for people in need of a trustworthy receipt maker is Express Expense. If you'd like to use it without the watermark, then there is a little cost. It's not free, but it's worth it because of the features and the professional yet simple UI. It also lets you create invoices that look as professional as possible.
Visit Website: ExpressExpense
7. Free Invoice Creator
Create polished invoices without leaving your browser with Free Invoice Creator. It is user-friendly, letting you send bills via email and providing detailed instructions. Furthermore, the receipt can be downloaded as a PDF.
Visit Website: Free Invoice Creator
8. Samahope
This invoice generator has numerous professional-grade formats and pre-loaded templates to help you save time while making professional-looking invoices. Tax receipts, parking receipts, gas station receipts, hotel/restaurant receipts, etc. may all be printed out.
Visit Website: Samahope
9. Fakereceipt.us
Finally, we have a fakereceipt that can be used to make whatever kind of receipt you need. With its user-friendly design, it's easy to learn and operate. It is simple to use and completely free as well.
False receipts can be generated by entering fictitious information. It's an alternative that's free and competitive with the other receipt generators we've talked about in this article.
Visit Website: Fakereceipt
10. Need Receipt
If you need a digital receipt, Need Receipt is the best option. It's easy to get about because it's website so straightforward. After selecting a receipt, you can customise it by adding your details and save it.
It provides a variety of editable examples to which one may add one's own text and brand imagery. It also provides invoices from a wide variety of different businesses including hotels, spas, salons, grocery stores, gas stations, and taxi services.
Visit Website: Need Receipt
11. Template.Net
Template.Net is not restricted to just receipts, but instead allows you to peruse a wide variety of unique templates (both free and premium). The website provides access to more than a hundred thousand pre-made layouts created by experts.
Everything from business cards to WordPress themes to printable certificates is included in this app. Therefore, it's a top choice among shopping online resources.
Visit Site: Template.Net
Conclusion
These were some of the top most famous online receipt generators for your convenience. Let us know in the comment section below which one seems the most workable to you.