Have you ever been presented with a page full of ads that are specifically tailored to your previous web browsing? All of these problems can be traced back to a Google redirect virus. The Android Chrome redirect virus can be removed in a number of different methods. Such a virus is annoying and can lead to a variety of issues, including a decrease in performance for the device under usage. In this article, we will discuss ways to remove google redirect virus.
Automatic app termination is another option. This is the effect of accessing an infected website or installing infected software. Infected devices will display advertisements, virus warnings, and similar alerts.
You need not be concerned if your devices are infected with the virus, but we have solutions to delete the google redirect virus. The infection may potentially cause your phone to malfunction. Once you have located it, get rid of it immediately. It is a sort of malware or adware whose main purpose is to display you numerous advertising.
Ways to Get Rid of Google Redirect Virus from Android | Remove Google Redirect Virus
However, debugging is difficult due to the fact that the infected software or website cannot be isolated. Therefore, let's analyse the techniques and remove the virus from the infected device.
1) Removing Suspicious Third-Party App
The most common route of infection is through the usage of a compromised third-party program. Thus, it is incumbent upon you to identify the offending app that is responsible for creating the infection. You can achieve this by identifying the problematic app and eliminating it, or by removing all recently installed third-party applications. If this doesn't remove the infection, you can try something else. Follow these instructions to remove the software:
The first thing you need to do is go into the settings of your smartphone.
After coming into settings, search apps or applications in the top bar of settings or manually search these options.
Open the applications or apps and find the app you want to remove. After finding click on that and after clicking, you will get the option of uninstall. Click on uninstall, and you are good to go.
2) Delete Cache or Data From Your Browser to Remove Google Redirect Virus
As was previously indicated, the Google Chrome redirect virus can be contracted by visiting a rogue website. If the infection was spread through a website, this is the best method to get rid of the Google redirect. It is important to delete the browser's cache and data after visiting each site to remove potentially malicious malware. Follow these steps below for cache and data elimination strategies:
The first thing you need to do is go into the settings of your smartphone.
Second, once you're within the settings, you'll need to hunt down the app or programs you're looking for. It's also accessible via manually configuration in settings.
Look for Google Chrome in the list of results that appears when you open the Apps or Applications option. Now go ahead and tap on Google chrome. To delete all cached pages and other data from your browser, use the button given that will come in the next window.
Please note that if you have more than one primary browser, you will need to follow these steps for each one of the browser.
3) Factory Reset Your Android Device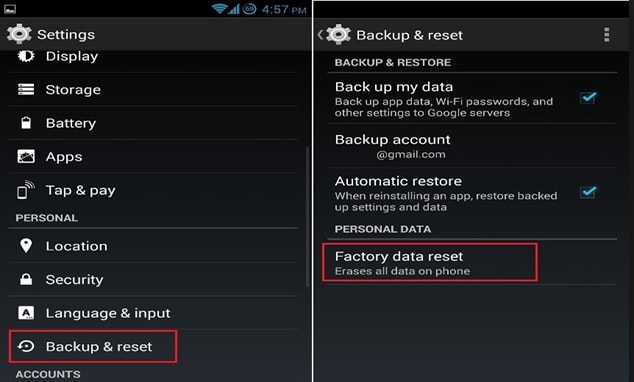 If you have tried everything else and still can't get rid of the Google redirect malware on your device, this is your last choice. While this method is more involved, it will successfully remove any virus from your device, including the Google redirect virus.
Your Android handset will remain in "refresh mode" after a factory reset for the duration of your new phone purchase. In any case, before you take this action, you should make a copy of your data or backup everything just in case anything goes wrong. To do this, follow the steps given below:
The first thing you need to do is go into the settings of your smartphone.
Second, access backup & reset via the settings panel or simply by typing "backup & reset" into the search bar at the top of the screen.
Next thing, you should open the backup and reset option. You will get the factory reset option there, click on that, and your device will successfully factory reset.