Smartwatches are a relatively recent innovation in the field of convenience technology. Today's modern wristwatches include the capability to receive, reject, and forward incoming calls. However, it also has a wide range of additional applications. Taking notes is just one illustration. It may be important to jot down some notes occasionally. We no longer utilise paper for this; instead, our phones serve as digital notepads. But suppose I told you that your smartwatch could do the same function? It is possible to give orders with your voice to your watch. In this article, we will discuss top note taking apps for apple watch.
List of 7 Note Taking Apps For Apple Watch
Functionality-wise, the Apple Watch trumps all other wearables. We have therefore gathered a set of note-taking apps for Apple Watch. These applications replace the iPhone's Reminders function, allowing you to set and record important reminders without the device.
1. Notebook
Notebook is one of the most widely used programs because of its simple design. When it comes to apps for the most recent Apple watch, this is one of the simplest ones for taking notes. With it, you may take notes on your iPhone or iPad and then access them on your wristwatch.
Notebook apps provide extra features such as night mode, history, watch dictation, and more. But you can't jot down ideas on the go with your Apple Watch. The pricing is a bit higher for some of the more advanced features that are locked behind a paywall.
Price: Free, Offers in-app purchases
2. Bear – Markdown Notes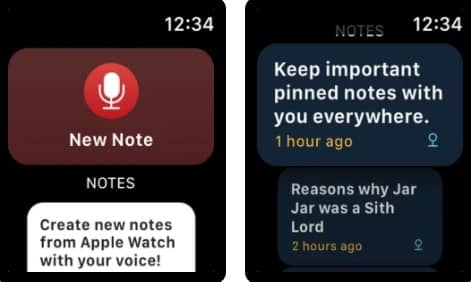 An excellent Apple watch software, this lets you jot down ideas whenever inspiration strikes. Incorporating a voice-to-text function, it makes it easier to do this. The iOS iPhone now allows you to take notes on momentous occasions without having to actually interact with the device.
The program is available at no cost to users but contains only the barest minimum of features. The Bear app also has a handy sharing feature that lets you send your notes to others when you really need to. Also increasing the app's utility is the ability to synchronise data between many devices.
Price: Free, Offers in-app purchases
3. Microsoft OneNote
It's a popular Microsoft program used to record thoughts, intentions, and results. With Microsoft OneNote, you can even view your notes on your Apple Watch, which is easily the app's best feature. A Smartwatch can also serve as a reminder device.
The options in Microsoft OneNote are easy to understand and navigate, allowing for quick learning. You can add some colour to your notes by using pictures and dates. Last but not least, there is no cost associated with using this program.
Price: Free, Offers in-app purchases
4. Drafts
Another well-liked iOS app for keeping tabs on things is called DraftsDrafts. An account must be made before using this software. This guarantees that all of your gadgets, including your iPad and Apple Watch, are in sync with one another.
The program also has a web interface, so you can go to your notes there. Additionally, Drafts allows you to send your notes by email, text message, etc. If you're looking for a note-taking tool with all of these features, Drafts is a great option.
Price: Free, Offers in-app purchases
5. SnipNotes
This is the most recent app and is a top-notch note-taking software that works with Apple Watch. Felix Lisczyk introduces his app, SnipNotes. SnipNotes stands out from the crowd thanks to its sleek design and uncluttered interface.
The application contains nearly all of the features necessary for a regular user. The inclusion of images, important dates, contact information, etc., can serve as useful reminders. You also have the option of exporting your notes to PDF or Docx.
Price: Free, Offers in-app purchases
6. Evernote
At some point in your lives, you probably heard about this program. Evernote was one of the first Notes apps for smartphones. Moreover, the app is significant to iOS users because it can be accessed through the Apple Watch.
Evernote works with Chrome, Android, Mac, and many more operating systems. It's a cross-platform app because you can synchronise your notes between devices. However, the Apple Watch is not compatible with Evernote's note-taking features.
Price: Free, Offers in-app purchases
7. Cheatsheets
You can use Cheatsheets if you're looking for a Notes app that lets you manage your note collection from the wrist. Short pieces of information like an ID number, hotel room number, or luggage combination can be saved as widgets within the application.
The tweaks can be prioritised and shown on your iOS wristwear accordingly. Also, because everything is synchronised in iCloud, you may view your notes on the watch without having to sync your phone.
Price: Free, Offers in-app purchases
Conclusion
These were some of the top and most popular note taking apps for your apple smartwatch. Let us know in the comment section below which one is your favourite.