Esports have become extremely popular because of the popularity of Battle Royale games like PubG and Call of Duty. Games that welcome a large number of players and provide them with tools for communication throughout the game, such as voice chat, tend to be the most well-liked. It's mind-boggling that some people are generating millions of dollars by simply recording themselves while playing and streaming video games online through game recording software. This is, hands down, the best job in the world, as its practitioners get paid to have fun.
When I say that the revenue is in the millions, I'm not exaggerating. Tyler Blevins, or "Ninja" as he is known online, is a gamer who rose from submitting amateur gameplay videos to YouTube for endorsement deals with companies like Microsoft, Adidas, and Red Bull. Playing video games has become his full-time job, bringing in over $17 million a year.
Another recent example is YouTube gamer Kyle Giersdorf, who won the Fortnite World Cup Solo Championship and quickly amassed $3 million. Among professional gamers, each of these two have achieved great reputation on television shows and on a global scale.
If you're passionate about video games, jumping on this bandwagon now is the best way to ensure yourself a slice of the action. There is no prerequisite knowledge or toolset. You just need to have a solid game recording program to record your matches and publish them to a website.
For your convenience, I will go over some of the top options for game recording software. But before we get to that, let's talk a little bit more about how to make money playing video games.
Different ways to make money by playing games
Rather of getting bogged down in the sheer number of possibilities, I've selected a few of my personal favorites below.
YouTube
You probably already know this, but YouTube is where your fellow gamers will be watching your gameplay videos. Every gamer I know got their start on this site, and they all make a fortune here every single month. Using any of the aforementioned programs in this article, you may easily capture your gaming and share it with the world on YouTube. It takes time for any plan to bear fruit, but if you consistently publish high-quality, in-demand content, you will quickly amass a large audience and a large number of subscribers.
Using Twitch to Broadcast
A user can stream their games in real time on Twitch, a network dedicated to live video broadcasting. Because of the site's target audience of gamers, your work will likely get traction quickly. You can earn money from your Twitch broadcasts in a variety of ways, some of which are included here.
Donations
Brand partnerships
Merchandising items for purchase Subscriptions
There is no requirement for streamers to have a particularly stunning or attractive setup, though it is certainly helpful. Stick to playing the most watched games well and you'll keep the crowd interested.
Participate in Esports competitions
Tournament play in the realm of electronic sports can be a great opportunity to boost one's profile and financial standing. It won't be hard to get in, but you shouldn't apply unless you already have a YouTube or Twitch channel.
13 Best Game Recording Software to Capture Gameplay
Now let's take a look at the top game recording programs out there.
If you're looking for a program to record games on your Windows or Mac computer, look no further than VideoProc by Digiarty. Play games in windowed or full-screen mode and record the screen, webcam, and audio with this lightweight yet powerful video processing tool, and then edit the footage.
To further demonstrate your gaming skills, VideoProc lets you customize the recording area, annotate with text, and highlight important moments all while recording games. Game recording can be difficult due to lag, however thankfully this is not the case here. With its built-in GPU acceleration engine, this powerful game recording program can capture action without any noticeable lag, even on less powerful devices.
With VideoProc's green screen recording capabilities, we can remove the background from a recording to create a talking head effect. VideoProc allows you to record at 1080p and save the video in MP4, MOV, MKV, FLV, or TS, while the vast majority of game recorders only offer SD MP4 screen recordings. This means that all common devices will be able to playback your recorded gameplay without any discernible pixel or frame loss.
The best thing about this tool for recording games is how easy it is to use. Clear and uncomplicated controls allow even a complete newcomer to start recording gameplay in a matter of seconds, with the best possible outcome achieved with a single click.
The HitPaw Screen Recorder is an easy-to-use but highly effective tool for recording gameplay. You may capture gameplay footage with HitPaw Screen Recorder, which you can get for free there.
Capturing the keyboard, recording your voice, and recording the game itself are all options during gameplay recording. In addition, you may capture gameplay from your iOS device to your computer, and if your computer doesn't have a camera, you can use your iPhone or iPad instead.
Capturing video games is just the beginning; you can record anything on your screen, with or without sound, using just your camera. Scheduled and timed recording functions allow you to begin and end recordings without being present at the computer. The live feed will be quite useful if you want to keep an eye on what's being captured.
If you wish to highlight something while recording, you'll need to capture the mouse and the ability to draw. A video editor that lets you do things like trim, crop, rotate, change the speed, and more is built into HitPaw Screen Recorder. HitPaw Screen Recorder works for both Windows and macOS, and you can get 30 percent off with the coupon code YT-30OFF.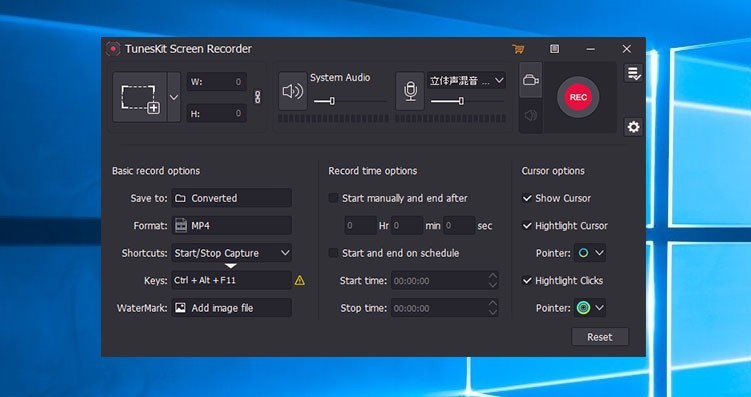 TunesKit Screen Recorder is another high-quality recording software that can be used for gameplay, webinars, video lectures, live broadcasts, and more. Games may be recorded at up to 60 frames per second in 1920 by 1080 full HD using TunesKit Screen Recorder, a lightweight screen recorder that won't slow down your computer.
TunesKit is flexible enough to be used with music or video, or both. You can also choose to record the sound from your screen, webcam, or microphone independently or simultaneously. Both manual and scheduled recording are possible. In addition, you need not resort to a separate program in order to preview and cut down on the length of the recordings.
Moreover, the audio can be taken from a video without any degradation in quality. It is a great video and audio recorder because of the flexibility it offers in terms of frame rate, bit rate, resolution, and file type. It is totally free to try out on your Windows or Mac computer right now.
Wondershare's high production values prevent you from saying that quantity is more important than quality. All of their products, not just DemoCreator, are high-quality and packed with features. With this tool, recording and editing gameplays is as simple as pressing a few buttons.
For the best possible viewing experience, you have the option of recording the audio from your microphone, webcam, or even the system itself.
If you want your audience to fully understand what's going on in your multiplayer game, there are times when you need to have a conversation with your teammates. Because of this, it's possible that this development will completely alter the trajectory of your video productions. Annotations, effects, narrations, banners, overlays, and a ton of other cool stuff are all available as you edit your clips.
You can use EaseUS RecExperts, another recording software, to take a screenshot of a selected area, the entire screen, or even your camera. Allows you to record gaming without interruption by recording system sounds and any external speech connected to your microphone.
You can edit your screencast by including text, effects, arrows, and more after you've completed recording it. Video games can also be captured in 4K UHD, both in 2D and 3D. Many video formats, such as MP4, AVI, and MOV, are available for exporting your recorded content. The application works equally well on both Windows and macOS.
Bandicam was made specifically for gamers and can record smooth 4K UHD video. To put it simply, its features justify its reputation as one of the greatest game recording tools out there. Minecraft, League of Legends, Roblox, and PlayerUnknown's Battlegrounds are just some of the 3D and 2D games you can record. Furthermore, you can record online games that are played in a browser or a flash player.
When compared to other software, which may be a shambles and even cause your computer to freeze up, Bandicam ensures that you won't have many delays when capturing your screen. One of the reasons for its superior performance is that it uses a hardware-accelerated H.264 encoder. Try out the free version first, and if you like it, consider shelling out for the full premium version.
Movavi's Gecata is an easy-to-use and lightweight Windows program for recording gameplay footage. The developers of this software have ensured that it works with the large majority of today's most played games, so you can get started right away making amazing gameplay videos. Gecata allows you to record and stream at the same time, so that those who couldn't catch the live broadcast can watch the recording at their convenience.
While recording your gameplay, you have the option of showing a small real-time camera capture of yourself in the corner, so viewers may see your face emotions as they happen. This is a great way to put a human face on your content and connect with your readers.
The integrity of your games will not be compromised in any way during the capture process, so you can relax. 4K resolution and 120 frames per second will be supported. There are a ton of other cool features you're missing out on if you don't download and try this one out right now.
Action! by Mirillis is a simple and straightforward screen recording software that is available exclusively for Windows. Whether you're using a computer, game console, webcam, cam recorder, or TV, all it takes is a few clicks to start recording. Some other features that make this program stand out:
Change the background with a green screen.
Keep your tabs' contents private while recording a custom area of the screen.
Send your gameplay footage straight to websites like Twitch, Ustream, and Facebook.
Just press a shortcut key whenever you want to capture a screenshot of your best gaming moments.
Depending on your hardware, you can record your screen in 2K, 3K, 4K, or even 8K resolution.
This works with the Logitech G13, G15, and G19 multimedia keyboards.
Capture audio from the microphone, games, and other sources.
After accumulating a library of games, you can improve the experience by applying in-app adjustments like slow motion.
ShadowPlay is a video recording and streaming service for video games. Users can capture and share gameplay footage of the highest quality. NVIDIA, the company that makes it, is responsible for producing some of the best GPUs ever made. Capturing the action on your screen is possible in 8K at 30 FPS or 4K at 60 FPS.
Because it is hardware-accelerated, you can safely run this program in the background without experiencing any lag or slowdown.
The option to rewind 30 seconds of gameplay with the press of a hotkey is a fantastic addition to ShadowPlay. If you're not currently recording your screen but just pulled off an impressive in-game feat and want to remember it, this is a great option.
In most cases, you won't even have to do anything. The software will record the game's most memorable moments and save them so you can show them to your followers later. Games can be streamed to sites like Twitch, Facebook, and YouTube without any restrictions.
If you have a Windows 10 computer and want to use the Xbox Game Bar, all you have to do is search for it. If not, Microsoft offers a free download of the software on their website. This easy program provides all the widgets you need to record gameplay quickly, and it works perfectly with the vast majority of PC games.
Then you may broadcast it to your followers, link up with other players, and even strike up conversations with them to spice things up. This program is quite lightweight, so it won't excessively slow down or crash your computer.
Gameplay highlights can be recorded, broadcast, and saved via FBX, another recording software. The best moments of the game can be captured with the press of a single hotkey. If you want to record games in the background while playing them, this program will automatically adjust to your bandwidth.
The good news is that you can probably record and stream without any issues even on a low-end machine. In order to set apart games, FBX allows for the editing of clips and the insertion of captions, effects, GIFs, and stickers.
One of the most basic programs here, Fraps, a recording software, has several uses, especially in gaming. It can capture 120 fps of gameplay footage and audio at a 7680 x 4800 resolution. The screenshots you take with this program will be named and timestamped automatically, making it that much easier to capture important moments.
It's compatible with a huge variety of games, including Far Cry and World of Warcraft. There are audio samples available for listening on their homepage to get a feel for the quality. While the basic version of Fraps is free to download and use on Windows computers, the PRO version is necessary to unlock extra features.
D3DGear is another recording software that records video games without hindering performance. After you start a game and hit a hotkey, the program will keep running in the background to take a recording, stream it, or get a screenshot. The vast majority of games, even the most resource-intensive, run smoothly on it. You can use a webcam overlay, capture in-game sound, and record your own voice over it.
High-quality recordings can be made with it, and thanks to extensive optimization, the exported files will always be relatively small in size. This software could be exactly what you need if you own an Oculus Rift VR headset and want to improve the quality of your gaming recordings. To give your audience the full virtual reality experience, it might record what they see in the VR headset's eye display. D3DGear features a 15-day trial period during which you can use it for free before being required to pay $29.85 for the full version. As of right now, it's solely Windows-friendly.
Conclusion
Getting your foot in the door of the competitive gaming world is easier than ever with the aforementioned game recording software. Have a great time!