Keep your possessions safe through cryptocurrency wallets.
As you may be aware, cryptocurrencies are not even registered under the laws of any country, and many people have lost their crypto because they did not secure it effectively. This means you need to be extremely careful when picking cryptocurrency wallets to store your digital currency.
14 Cryptocurrency Wallets to Store Your Crypto Securely
You risk losing all of your cryptocurrency investment if you pick any wrong cryptocurrency wallets. Hence, we've compiled a list of the top cryptocurrency wallets for you that are completely safe to use.
Do you like digital currency? The Ledger Nano S is one of the best hardware cryptocurrency wallets you can buy. In case you were curious, this wallet stores its users' bitcoin private keys in an encrypted form on a hard drive. Its principal use is to keep your private keys separate from your potentially hackable PC or smartphone.
Ledger provides a unified, secure platform across desktop computers, mobile devices, and the cloud for the buying, selling, holding, and trading of digital currencies. There are support for more than 1,500 tokens and 27 coins.
The cutting edge hardware wallet technology implemented by Ledger guarantees the best security for your cryptocurrency holdings. Their products have a Secure Element and run on a custom operating system designed to keep your data safe. You will now be the sole owner of all of your private keys.
Need a better place to keep and track your digital currency? The Trezor Hardware Wallet is an excellent option. Instead of trusting your cryptocurrency management and trading needs to internet service providers, who could go out of business or be hacked at any time, you can use this dependable solution that includes a hardware wallet.
It safeguards your assets with transparent security that includes assessments by seasoned security researchers and verification based on their track records. Trezor Wallet's goal is to give you peace of mind by delivering a simple, quick, and straightforward interface. Your finances will be much easier to handle, regulate, and move about. Offline backup allows you to quickly retrieve and recover your data.
A seed will be generated for you during the Trezor wallet setup process. Don't make a digital copy of your seed and keep it in an extremely safe place if you value privacy. Using a personal recovery seed of 12-24 words, you have unrestricted access to your wallet at all times.
The SatoshiLabs standard used in this seed makes it usable with a wide variety of wallet software. Trezor is a multi-coin hardware wallet that uses multiple layers of security (encrypted cloud storage, U2F authentication, Bitcoin-only firmware, and Encryption via GPG, to name a few) to protect its users' funds.
Crypto.com's DeFi Wallet is a non-custodial option for using any of the available DeFi services. You can easily manage more than a hundred cryptocurrencies, including Bitcoin, Atomic Transfer Protocol tokens, Litecoin, CryptoNote, Ethereum, and other ERC20 tokens, while retaining full control over your keys and holdings.
To import an existing wallet, enter the recovery phrase you created, which can be 12, 12, or 24 words long. A Bitcoin can be sent with a network fee and confirmation time that you select. DeFi Wallet supports Compound, Yearn Earn V2, Aave, Cosmos Staking, and Crypto.org Chain Staking, allowing you to earn interest on more than 35 different tokens.
There are no lock-up periods that prevent you from reaping huge rewards. In addition, the DeFi Wallet allows users to mine DeFi coins and make instantaneous trades. As an added perk, Liquidity Providers can split the bonus yield and swap fees on certain pools.
Using DeFi Wallet, you may increase your earnings by a factor of twenty. DeFi Wallet places a premium on security and provides you with private keys that are encrypted locally using a combination of Secure Enclave, 2-Factor Authentication, and Biometrics.
Get the DeFi Wallet App from the App Store or Google Play to store and spend your digital currency. Additionally, cryptocurrency traders can use Crypto.com as a trading platform. Sign up and receive a $10 bonus.
Exodus simplifies the process of managing your cryptocurrency holdings by providing you with a mobile and desktop wallet that allows you to send, receive, and trade your coins with no effort.
The Exodus hardware wallet integrates smoothly with a wide variety of apps, allowing you to more effectively monitor your funds and accrue interest. To make crypto trading more fun for you, you will have access to real-time charts and portfolios, an integrated exchange, and support that is available 24/7.
In fact, it works with more than a hundred different digital currencies. Virtual assets may be better managed from anywhere with the help of mobile apps for Android and iOS. Coinbase makes it easy to keep tabs on market swings, swap between cryptocurrencies with only a few clicks, and synchronize your data with their desktop client.
You may safely manage your crypto holdings using Exodus and the highly secure Trezor hardware wallet. Furthermore, the Trezor hardware ensures that your possessions never leave the offline world. Even inexperienced users can navigate Exodus' intuitive interface and benefit from the wallet's full suite of features and team assistance.
Millions of people rely on Trust Wallet because it is one of the most reliable and secure crypto wallets available. It caters to people who prefer a no-frills method of cryptocurrency management and is available on Android, iOS, and desktop platforms.
Credit cards can be used to buy cryptocurrency, which can then be traded instantly with increased privacy and security. Your NFTs, artwork, and collectibles can all be viewed in one place, and you can buy Bitcoins in a couple of minutes.
Avoid worrying about closing the app while making a cryptocurrency trade. Additionally, the wallet's price and chart data may be easily monitored while remaining safe from scammers and hackers. No identification is required for trades up to $50 in value, so feel free to try out Ethereum, Binance Coin, Bitcoin, and the rest.
There is never any collection of private data; you have complete control over who can view and modify your digital possessions. You may use the dapps you already love and explore new and exciting ones without ever having to take out your cash. Simple and secure, Trust Wallet allows you to store tokens and money from over 160 different assets on 40 different blockchains.
BitPay is a secure platform for managing and exchanging cryptocurrency. It has a wide range of services, including the creation of multiple wallets, the transfer of funds, the usage of testnet currencies, and many more.
Protect your transactions with Payment Protocol and your money with key encryption and multi-signature authentication. Get notified immediately of any change, such as offers, payments, or transfers, via email or push notification.
It's a convenient way to send money to loved ones anywhere in the world or to turn cryptocurrency holdings into fiat currency. You can use this BitPay app to receive quick shop credits and then use them at a retailer if your preferred retailer does not accept cryptocurrency.
Even BitPay can't take your money if you use their open-source, non-custodial wallet. Improve your safety by using additional safeguards including private key encryption, PINs, and biometric authentication. When making a large purchase, it's often helpful to have several people or machines sign off on it.
Bread developed the Breadwallet software in 2015 as a mobile payment platform. It works with both Apple and Google mobile operating systems. It's a simple and secure way to keep your bitcoins safe. The program has been streamlined to the point that it can connect to its respective blockchains instantly.
Breadwallet was developed with the goal of keeping user information and communications private. You can send and receive money at any time, from anywhere, and remain completely anonymous financially simply by clicking a button. One of Bread Wallet's standout features is the ability to act as a stand-alone client, meaning that no third-party server is required to make Bitcoin transactions possible. The best part is you can start using right away; there's no need to sign up first. It establishes a safe connection directly to the blockchain.
Armory is a free and open-source wallet that allows for multiple signers. With this wallet, users have full authority over the creation and safekeeping of cryptographic keys. Its goal is to make safeguarding and administering Bitcoin tokens easier for individuals and businesses through a mix of strong security measures and an intuitive UI.
Armory wallet enables for cold storage, which implies that Bitcoins can be managed offline. Support for multiple signatures is included as well. Those who are always concerned about keeping their money safe will appreciate this wallet.
If you're looking for a wallet that prioritises private key security without sacrificing convenience, go no further than GreenAddress, a hierarchical deterministic wallet. Below are only a few of GreenAddress' many features.
Two-factor authentication (and its many permutations).
Bitcoin management can be automated with a programmatic API.
Limits on expenditure can be set.
Compatible with a wide range of operating systems and electronic gadgets.
MyEtherWallet is useful for all things related to Ethereum. It's made it possible to do so many foundational things with Etherueum, including making a paper wallet, sending and receiving Ether, collecting Ether, setting up a seed, and more. It can talk to test networks for Ethereum, such Ropsten. The great majority of hardware wallets, such as Trezor, Ledger, etc., are supported.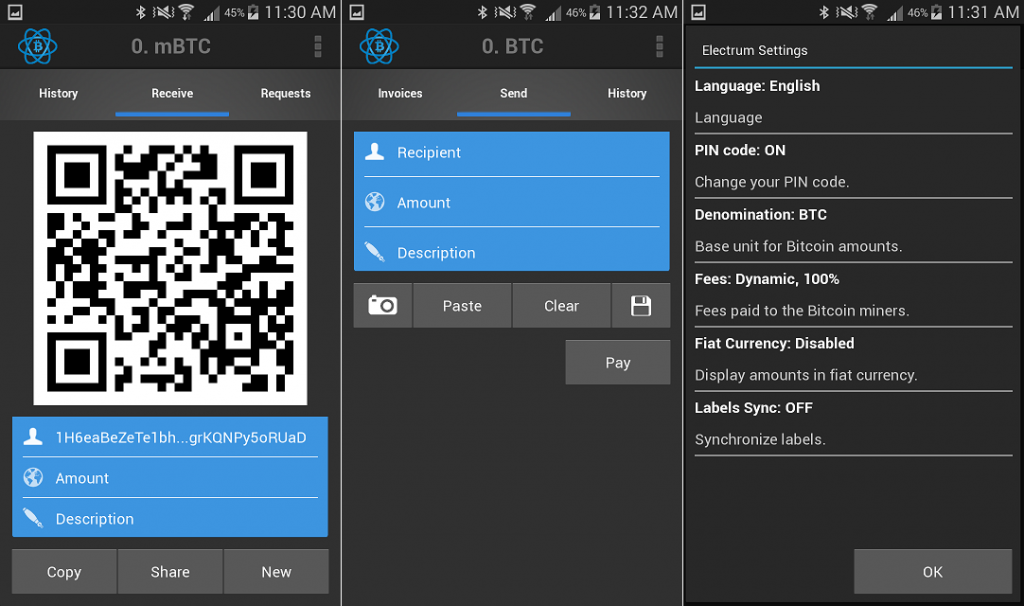 Electrum is cross-platform, meaning it works on Windows, Mac, and Linux computers. Electrum's private key encryption features are largely responsible for its reputation as one of the most reliable wallets on the market. Instead of starting a full node and downloading the entire Bitcoin blockchain, users can simply launch a lightweight client wallet and connect to remote servers. The Electrum wallet may be accessed at any time because to the wallet's server's redundancy and decentralization.
All critical information is encrypted by Edge via a custom client-side encryption feature. With the help of ShapeShift, users of Edge may instantaneously trade a variety of tokens for fiat currency. Both Apple and Google smartphone operating systems are supported.
One of the most well-known Bitcoin exchanges is Coinbase. Numerous methods exist for buying bitcoins, including using a debit card, a bank account, a SEPA transfer, and others. It also has a marketplace and API for programmers. In some countries, customers can use the instant buy function to make instantaneous purchases with their credit or debit cards.
Did you know that you can keep all of your digital assets safe in one convenient place with Coinbase's wallet? You may get a Coinbase wallet through the App Store or Google Play.
ZenGo, in all its uncomplicatedness, is on the table. It makes passphrases, passwords, and private keys superfluous. Instead, it relies on facial recognition technology for security.
At ZenGo, they have developed their own safety measures. Both the user's mobile device and the ZenGo servers store this information. All of the keys are essential for financial dealings. This, according to ZenGo, is how they made sure there was no longer a weak link in the system.
There's no getting around the reality that ZenGo is a very new product. Users have nothing but praise for their app, nevertheless. The UI was made with the general public in mind.
Additionally, ZenGo can be used as a cryptocurrency savings account to accrue interest on staked cryptocurrency. Plus, your facemap serves as a backup should you lose access to your ZenGo wallet. Additionally beneficial to them, ZenGo has zero transaction fees.
Conclusion
Spending some time researching up on the various cryptocurrency wallets available is preferable to protecting yourself from modern frauds and fraud. So, do let us know which of these cryptocurrency wallets best suited your needs.